TIMES OF INDIA
THE TIMES OF INDIA | Aug 05, 2020, 05:03:15 IST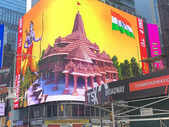 The ground-breaking ceremony of the laying of foundation stone of the Ram Temple in Ayodhya will take place on August 5. As many as 175 eminent guests, including 135 seers have been invited for the ceremony. PM Modi is expected to arrive in Ayodhya at 11:30am today.
Hope temple ritual marks nat'l unity: Priyanka
Priyanka's message, coming at a time when the event is seen by some quarters as being "usurped" by the BJP-RSS to the exclusion of all other political parties, was seen as Congress's effort not only to show support for construction of the Ram temple but also claim its own part in it.
Dream close to my heart being fulfilled: Advani on eve of pujan
"PM Narendra Modi is laying the foundation for construction of Shri Ram Mandir in Ayodhya, the birthplace of Shri Ram. It is indeed a historical and emotional day not only for me, but for all Indians. A grand mandir for Shri Ram at Ram Janmabhoomi has been a desire and mission for BJP," Advani said in a statement.
Tamil Nadu CM K Palaniswami extends greetings to Modi on the eve of 'bhumi pujan'
Tamil Nadu Chief Minister K. Palaniswami on Tuesday greeted Prime Minister Narendra Modi, who will be laying the foundation stone for the Ram temple in Ayodhya during the grand 'bhumi pujan on Wednesday.
A view of Ayodhya ahead of Ram Temple's 'bhoomi pujan' today
Sri Sri Ravi Shankar not invited to Ram Temple's bhumi puja, reports IANS
Spiritual leader Sri Sri Ravi Shankar, who had mediated in the Ram Janmaboomi – Babri Masjid dispute, did not receive an invitation to attend the Ram Temple bhumi puja in Ayodhya on Wednesday, an official said on Tuesday. "Sri Sri Ravi Shankar ji has not been invited to the programme and we don't know the reason why," told a spokesperson to IANS.
A view of Ayodhya town on the eve of Ram temple 'bhoomi pujan'
Preparations ahead of 'bhoomi pujan' in Ayodhya
Earthen lamps lit at Ujjain's Mahakaleshwar Temple as part of 'deepotsav', ahead of the foundation stone laying ceremony of Ram Mandir.
Madhya Pradesh: Earthen lamps lit at Ujjain's Mahakaleshwar Temple as part of 'deepotsav', ahead of the foundation… https://t.co/WTnlO8S2ez

— ANI (@ANI) 1596559032000
Quote
This struggle has been a relentless story and be it either the judicial battle or creating a riveting atmosphere of consensus, the efforts made by the Modi government have been remarkable and I wholeheartedly thank them for the same.
Raj Thackeray, Maharashtra Navnirman Sena 
Tomorrow is 'bhumi pujan' of Ram Mandir in Ayodhya. This day will be etched in history as one of the most auspicious days of independent India. My thoughts are with Shri Balasaheb Thackeray, he should have been there to witness this: Raj Thackeray, MNS
Tomorrow is 'bhumi pujan' of #RamMandir in Ayodhya. This day will be etched in history as one of the most auspiciou… https://t.co/XtnVPxn1sJ

— ANI (@ANI) 1596557110000
Ayodhya district lit up with earthen lamps ahead of Ram Mandir's foundation stone laying ceremony tomorrow. Prime Minister Narendra Modi will attend the event.
Tribal priests from Jharkhand leave for Ayodhya, to participate in Ram Temple bhoomi pujan, reports PTI.
No monkey business allowed in Ayodhya (PTI).
Devotees going for a darshan of Ram Lalla at the makeshift temple are used to making their way to the deity through a caged gangway, partly because of the monkey menace. An official from the government's Information department told PTI that municipal authorities and the animal husbandry department have been asked to "keep the premises safe from monkeys". They will use catapults and wooden batons to shoo away any monkey spotted in the neighbourhood. But the most effective weapon will be gram and fruit, he said.
Read: Nepal's Pashupatinath Temple to hold prayers for grand Ram Mandir in Ayodhya
"Lord Rudra will be prayed through special Rudrabhishek and Shodashopachara Pooja for the construction of the grand temple of Lord Shri Rama," read the trust's statement released Tuesday. Explaining the relevance of Lord Ram and Lord Shiva in Hindu mythology, the chief priest said that a person need to understand Shiva to understand Lord Ram.
Quote
It is also my belief that Ram Mandir will represent India as a strong, prosperous, peaceful and harmonious nation with justice for all and exclusion of none so that we can truly usher in Ram Rajya, the epitome of good governance.
Veteran BJP leader Lk Advani 
It is my belief that this temple will inspire all Indians to imbibe his virtues: LK Advani
Shri Ram occupies an esteemed place in India's cultural and civilizational heritage and is an embodiment of grace, dignity and decorum, says the veteran BJP leader.
One such dream, close to my heart is getting fulfilled. PM is laying the foundation of Ram Mandir. It's a historic & emotional day not only for me but all Indians: LK Advani