TIMES OF INDIA
THE TIMES OF INDIA | May 22, 2020, 19:03:52 IST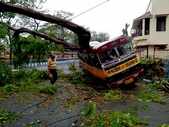 Prime Minister Narendra Modi arrived in Odisha on Friday and held a review meeting after conducting an aerial survey of the cyclone-affected districts in the state. Earlier in the day, the PM had visited West Bengal and had announced a relief package of Rs 1,000 crore for the state. Stay tuned to TOI for live updates.
Cyclone Amphan: Irdai asks life insurers to expeditiously settle claims
Irdai on Friday asked life insurance companies to take immediate action to ensure expeditious settlement of claims in wake of cyclone 'Amphan' causing loss of lives in several parts of West Bengal and Odisha. (PTI)
Watch: PM Modi conducts aerial survey of cyclone-affected districts of Odisha
#WATCH: PM Modi conducted aerial survey of areas affected by #CycloneAmphan in Odisha today. CM Naveen Patnaik&Guv… https://t.co/h7nmCqkR2k

— ANI (@ANI) 1590152028000
PM announces Rs 2 lakh ex-gratia for the next of kin of the dead; Rs 50,000 for the injured
Quote
Everyone is fighting Covid-19. In such a time, we had a super cyclone in some parts of India. This became very worrying. At the same time, due to the well established processes in Odisha, many lives were saved. I congratulate the people and government of Odisha.
Prime Minister Narendra Modi 
PM announces Rs 500 crore relief package for cyclone-hit Odisha
The government announces Rs 500 crore for Odisha, as a measure in advance. The government will further help state government and make rest of the arrangements to come out of this crisis, after the complete survey and the formation of a rehabilitation plan: PM Narendra Modi (ANI)
PM holds cyclone review meeting in Bhubaneswar
Odisha: Prime Minister Narendra Modi holds a review meeting with senior officials and minister of the state in Bhub… https://t.co/XvMYqD2lwn

— ANI (@ANI) 1590149922000
Heavy rainfall predicted at one or two places in Alipurduar, Coochbehar, Jalpaiguri, Darjeeling, and Kalimgpong districts in West Bengal during the next 48 hours
PM Modi has returned to Bhubaneswar where he will hold a review meeting with Odisha CM and officials
PM Narendra Modi conducts aerial survey of the cyclone-affected districts of Odisha
Dalai Lama expresses sympathy for cyclone victims
Tibetan spiritual leader the Dalai Lama has written to Mamata Banerjee and Naveen Patnaik, chief ministers of West Bengal and Odisha respectively, expressing his sympathy for the loss of lives and property in the two states ravaged by cyclone Amphan.
Opposition parties also resolve to call upon Centre to provide urgent help to fellow citizens in view of Cyclone Amphan
22 opposition parties call upon Centre to declare Cyclone Amphan as national calamity, reports PTI
Cyclone Amphan: Delhi CM Arvind Kejriwal extends support to West Bengal, Odisha
At this hour of crisis, we feel that we must work together. There are so many areas where they can help us, state govt also exists in this country & central govt also exists. If there is a crisis everybody must work together: WB CM when asked if she is satisfied with PM's visit today. (ANI)
PM Narendra Modi received by CM Naveen Patnaik and governor Ganeshi Lal on arrival at Bhubaneswar airport. The PM will be conducting an aerial survey of the areas affected by Cyclone Amphan.
Quote
He (PM) announced Rs 1,000 Crore for the emergency fund but he didn't clarify whether it'll be an advance or a package. He said he'll decide later on but he said it may be advance also. I said whatever you will give you decide, we'll give you details.
West Bengal CM Mamata Banerjee 
West Bengal has suffered losses of more than Rs 1 lakh crore due to cyclone Amphan, says CM Mamata Banerjee after review meet with PM
People protest against lack of electricity and water supply in some parts of Kolkata
#CycloneAmphanImpact : People in several pockets of #Kolkata come out on the road protesting against the lack of el… https://t.co/x0uUmdIeGZ

— TOI Kolkata (@TOIKolkata) 1590137358000
Workers clear roads in Salt Lake area.
It was a meeting of two able administrators. No room for politics: Babul Supriyo after meeting between PM Modi and CM Mamata Banerjee.