TIMES OF INDIA
THE TIMES OF INDIA | May 22, 2020, 19:05:13 IST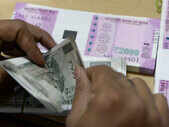 The Covid-19 pandemic continues to surge in India, with the total number of cases now crossing the 1,10,000-mark. The death toll stands at 3,583. RBI governor Shaktikanta Das earlier addressed the media, laying down the measures being taken by the Central Bank to meet the challenges posed by the coronavirus. Stay with TOI for live updates
5 new positive cases in Delhi detected and shifted to AIIMS Jhajjar. One personnel of 31 battalion discharged from Rajiv Gandhi Super Speciality Hospital: Central Reserve Police Force (ANI)
CM YS Jagan Mohan Reddy launches Rs 1,110 crores 'ReStart package' for MSMEs: Andhra Pradesh CMO
"Rs 450 crores released in the first installment to benefit nearly 98,000 units which employ more than 10 lakh people," the CMO released in its statement.
699 Shramik special trains ran from Gujarat till May 21, carrying 10.15 lakh migrant workers: Gujarat CMO (ANI)
SpiceJet opens booking for domestic flights, reports PTI.
Spicejet in a release said that to start with, the airline will operate flights to 41 domestic destinations operating an average 204 daily and 1,431 weekly flights with a slew of in-flight and on-ground modifications in line with the global best practices and government SOPs to minimise human contact and ensure safe travel for its passengers.
Mumbai Municipal corporation allows home delivery of liquor in non-containment zones of the city.
No over the counter sales to be permitted.
Tracking the spread of Covid-19
International travellers to UK set to face 14-day quarantine, fines, reports PTI.
Under the plans, to be formally announced by UK Home Secretary Priti Patel at the daily Downing Street briefing, health officials would be able to carry out spot checks to ensure people comply with their self-isolation at a designated address and impose a 1,000 pound fine on anyone breaking the quarantine.
Indian-origin doctor couple set for court fight against UK government over risky guidance on PPE, reports PTI.
CM has instructed the concerned officials to prepare guidelines to conduct film shootings in the state: Telangana CMO (ANI)
Telangana CM has stated that film shootings and post production works would be resumed in a phased manner: Telangana CMO (ANI)
High mortality rate in Covid-19 cases and low recovery rate at the facility is mostly because serious coronavirus patients with high chances of death are admitted here: Ahmedabad civil hospital (PTI)
It's only a pause, more steps to come to deal with Covid-19 crisis, Minister of state for finance Anurag Thakur tells PTI.
786 new Covid cases reported in the state today; the total number of positive cases in the state rises to 14,753: Tamil Nadu health department
Lawyers' chambers at Saket district court to open in phased manner from Friday, reports PTI.
Lawyers can visit their chambers from 10 am to 12:30 pm and access shall be permitted to one advocate per chamber and in case more than one person shares the chamber, co-sharer can access it while maintaining norms of social distancing, as per the letter's suggestions.
A complete lockdown will be imposed from 7pm on Saturday till Monday 7am: City police commissioner
Full day curfew will be observed in Bengaluru for next two Sundays, barring essential services: City police commissioner
Around 80% of Covid-19 deaths have been in Maharashtra, Gujarat, Madhya Pradesh, West Bengal and Delhi: Govt
Covid-19 outbreak in India has remained confined to limited areas with 80% of active cases in just 5 states: Govt
Model by two independent economists shows that around 23 lakh Covid-19 cases and 68,000 deaths have been averted due to lockdown: Govt
According to Public Health Foundation of India, nearly 78,000 lives have been saved due to lockdown: Govt