TIMES OF INDIA
THE TIMES OF INDIA | Mar 24, 2020, 23:41:59 IST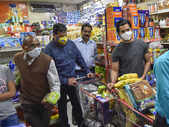 Prime Minister Narendra Modi has announced a 21-day complete lockdown across India to control the spread of coronavirus, which has killed over 17,000 across the globe and ten people in India. Stay with TOI for the latest developments
Trump eyes loosening virus restrictions, says he hopes to have country 'opened up and just raring to go by Easter'
The total number of coronavirus cases rises to 536 in India: Indian Council of Medical Research
I thank all the doctors, nurses, paramedical staff, pathologists and police personnel who are risking their lives and fighting against an epidemic like Coronavirus day & night. I also appeal to the people to cooperate with them in these tough times and pray for their health: Home minister Amit Shah
Italy records 743 virus deaths, surging to break two-day trend, official says: AFP
More than 2.6 billion worldwide told to observe lockdowns
The figure represents more than one-third of a global population the United Nations estimates at 7.8 billion in 2020. India and New Zealand are the last countries to join this list, with South Africa in the club on Thursday.
Trump warns coronavirus shutdown could 'destroy a country'
SC too declares complete lock down indefinite and cancels hearing of urgent matters even through video conferencing.
16 positive coronavirus cases reported in Haryana
PM expresses condolences on the loss of life in Europe
PM expressed his condolences on the loss of life in European Union due to #COVID19. He emphasized on need for coord… https://t.co/wHDzwpCaRn

— Times of India (@timesofindia) 1585067717000
In view of the country wide lockdown, Sabarimala Temple festival which is scheduled to be begin on March 29 has been cancelled.
NPR exercise, 1st phase of census deferred indefinitely after PM Modi's announcement of 21-day lockdown: Officials
Terminal 2 of Chhatrapati Shivaji Maharaj International Airport in Mumbai wears a deserted look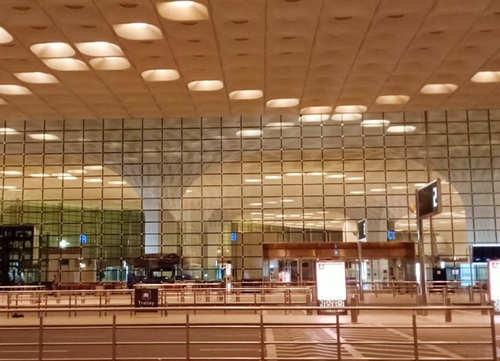 No panic buying please: PM Modi
By converging around shops, you are risking the spread of COVID-19. No panic buying please. Please stay indoors.… https://t.co/wvLw9GVC42

— Narendra Modi (@narendramodi) 1585064800000
Absolutely no need to panic: PM Modi to citizens
My fellow citizens, THERE IS ABSOLUTELY NO NEED TO PANIC. Essential commodities, medicines etc. would be availab… https://t.co/rcXa7t7FWs

— Narendra Modi (@narendramodi) 1585064434000
MHA order on supply of essential services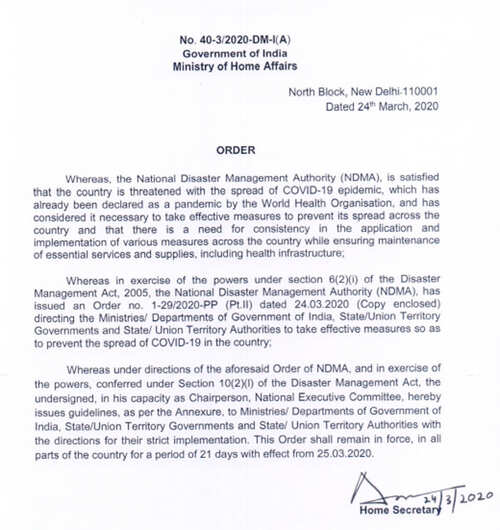 Ministry of home affairs will shortly issue guidelines of effective measures and exceptions to the essential services during this 21-day lockdown. There will shortly be an MHA 24/7 hotline to assist states during this period